The Frontline project is a digital archive established to collect and empower the voices of health care professionals and associated key workers during the Covid-19 pandemic.
If you are a health care professional or associated key worker, we would love for you to contribute your voice to the digital archive through video, images, sound, words or artwork.
Each and every story in this unprecedented time is important and The Frontline project wants to protect individual experiences from getting lost in the ever-changing and often panic-driven media landscape.
We hope contributions to this project will result in an archive of shared histories that can be preserved for the future, establishing a vital and long-lasting voice for frontline workers which will be of cultural, political and historical significance.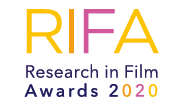 The Frontline project is partly seed funded by prize money from the AHRC Research in Film Awards won by Prof. Topun Austin (Rosie, Cambridge University Hospitals Trust) , Sophie Jackson (Cambridge School of Creative Industries) & Dr Shreepali Patel (StoryLab) for The Golden Window, RIFA 2019 Best Research Film, Health and Wellbeing
JOIN THE CONVERSATION 
If you are a health care professional or associated key worker on the Covid-19 frontline, add #frontlinestories to your social media posts to share your voice.
Follow us on Twitter: @Frontline_ARU