The Frontline
  Navigate to:     [ps2id url='#Frontline-About']About[/ps2id]      [ps2id url='#Frontline-Participate']How Do I Participate[/ps2id]
Healthcare Professional
Cambridge, UK
Neonatal Care
Cambridge, UK
Strange Times
The phones are silent,
all appointments cancelled,
there are few letters to type,
fewer arrive.
[expander_maker id="2″ more="▾More" less="▴Less"]
No-one needs help,
we're all in the same boat.
In a strange office
we await the backlog
when this is 'over'
and we have to move back.
One day we'll be able to order
paper and envelopes,
queue for a sandwich in the canteen,
patients won't rather have heart disease
than catch COVID-19.[/expander_maker]
Assistant Medical Secretary
York, UK
Registered Nurse
Los Angeles County, US
There was so many of them they became just bodies, not people, not someone's loved one, just bodies in beds.
2 beds where there was usually 1, borrowed equipment from theatres and old equipment we hadn't seen for a while.[expander_maker id="2″ more="▾More" less="▴Less"]
We had to change our mindset, quality care out the window, keep them alive, give them a chance.
Staff from everywhere redeployed to help out, terrified but there.
Not the same as a skilled ITU nurse but better than nothing was the take on it.
We lost a few, difficult conversations on the phone as no visiting allowed, but we allow 1 visitor in for end of life. We explain the risks but of course they come in. Property is wrapped up and they're told not to open it for 72 hours.
But now some are getting better, and they're needs change and we've had to change. We need to rehab them so now need more space and communication is difficult and it must be so frightening for them.[/expander_maker]
I have boxes in my head where I put stuff, I worry for younger staff and staff who don't have good support at home, that's what keeps me going.
The team work is phenomenal and that makes me so proud that I'm part of this.
Senior Sister Critical Care
Birmingham, UK
Frontline Key Workers – you are making history and we want to hear your stories!
If you are working in the NHS or a key worker and offering care and support to those suffering with COVID-19 and the general public we want to collect your living histories, as a record of the work, achievements, worries, hopes and challenges of NHS staff and key workers during the pandemic.  No matter what your role is, we know that you are making a difference.
We want to preserve your memories about working on the frontline during the pandemic and your collective stories will be held and shared for future generations within StoryLab  – leaving a mark in history.
[expander_maker id="1″ more="—Read More—" less="—Collapse—"]
About The Frontline
Our lived experiences today will inform and enable communities in the future.
Doctors, nurses, health care and other key workers are on the frontline of fighting the Covid-19 virus. As the pandemic spreads havoc around the globe, Britain's health care practitioners and key workers have been battling more than just the virus. They put their lives at risk for the public, they have been praised but also abused. Some of their individual stories are filtering through on social media sites. But many of the real stories may be lost in the midst of a panic driven media landscape.
The Frontline serves as a vehicle to give a voice to health and key workers during the pandemic. By utilising social media platforms, the power of hashtags, letters, cards and online communication tools, frontline healthcare staff and those affected will be empowered to share their own unique perspectives during the outbreak. These consolidated stories will also serve as historical records, preserve memories, inform future scoping, policy makers of the emotional and challenging resilience of these frontline workers.
[/expander_maker]
We invite you to use your phone or other devices to record and send us vlogs (videos of one-minute length or less), letters, podcasts (audio), drawings and artwork, or photographs to share your living history during this time.
Email marques.hardin@aru.ac.uk for further guidance. Additionally view our Tips for Filming a Video Blog on your phone.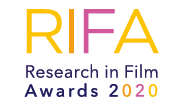 The Frontline project is partly seed funded by prize money from the AHRC Research in Film Awards won by Prof. Topun Austin (Rosie, Cambridge University Hospitals Trust) , Sophie Jackson (Cambridge School of Creative Industries) & Dr Shreepali Patel (StoryLab) for The Golden Window, RIFA 2019 Best Research Film, Health and Wellbeing
Be a Part of the Story
If you serve on the frontline medical services during the Covid-19 pandemic, join the online conversation using the hashtag #frontlinestories to share your voice.