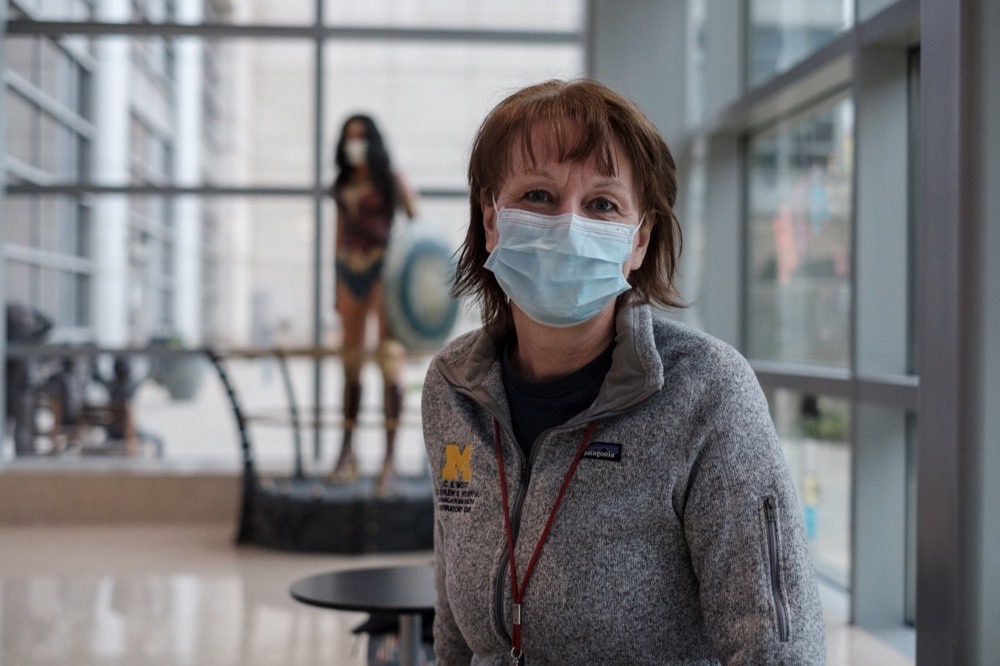 I've worked 37 years as a respiratory therapist. I was at Hurley for 28 years and I took a week off between jobs and I came [to my current job] in 2011. I've been here almost for 9 years.
The biggest differences are here they have equipment that is endless. I feel like we have every opportunity to have great equipment. At Hurley we struggled to get what we needed. We watched every single penny. I knew how much a ventilator circuit cost, how much a baby diaper cost. It was ingrained in everyday life of not wasting. Here I feel like we have great equipment and it's not even a thought, 'Oh!I need this piece of equipment.' I know it's going to be here. That's a plus I guess.
As a therapist in the hospital you precept students and I could tell when I started precepting that I loved teaching. I like empowering people to be the best they can be. I guess that carried through. Then an opportunity at the college came up. So I have been teaching neonatal/pediatric classes for the respiratory program since 2006.
My love for neonatal started when I was a respiratory student back in 1982. There were these triplets born in the NICU at Hurley: premature, 26 weeks… It was like a symphony, every therapist was assigned to a patient, they were going to be intubated and on the ventilator. The nurses, the doctors, it just flowed. Everybody was a team. So I felt like that sparked my interest, but I was still afraid of babies. I worked adult care for a long time and slowly worked my way in. That's when my heart sang, when I was in the NICU. Over time it slowly became what I love.
[During the pandemic] The hardest thing to deal with has been the uncertainty. Worrying about my family, my daughters, who are more frontline than I am. I feel like my worry for them to be safe has been the hardest for me.
The funny thing is, I thought I was in charge of keeping my family safe, but it's my daughters who brought that back to me. Emily made sure I had the PPE that I needed, she got me a P100 mask and she got scrub caps. Just chatting with my daughters.. Carly, just when I think 'Oh my gosh she's got a very anxious filled day', and the next day when I talk to her she is more empowered. I'll be down and anxious and she gets back to me and says, "It's okay mom we got this!" It's amazing.
I get through this a lot with prayer. Emily's message of choosing hope over fear just keeps ringing through my brain. Don't lose hope.