The Reality of Covid: Life redeployed.
My 2020 Covid Story.
This is my experience, not the view of my colleagues or the Trust. 
Monday morning… The alarm goes off, I'm up, dressed and out, ready to face the day, I drive to the station and jump on the train to work, watch iplayer while doing my makeup and in no time at all we're in the city. 
Ready to meet up with friends/colleagues on our second train of the day; we catch up on the news and stories of our weekends as we journey through the city and out to our hospital, then say our goodbyes as we head off in to our departments, like its business as usual.  
Except it isn't, nothing about this is usual…  
Getting dressed there's no need for smart clothes; old tatty jeans will do, as they'll soon be swapped for scrubs when I get to work. As I head to the station I don't pass a single other vehicle, on a road which is normally bumper to bumper even at 6am.  
It is on the first train that it is most surreal as there's only a handful of people onboard a service that's normally bursting at the seams, and of those who are there they are all keeping their distance and wiping everything before and after they touch it, the train is silent. No one dares to speak; everything is said through eye contact.  
On the second train, there is a sense of mutual understanding, we are 'key workers', and the majority of us on that train work in the same hospital, so can relate to how each other is feeling.  
At work, the hospital, it all looks the same from the outside but inside there are now antibacterial hand gel stations where a statue once stood and extra ID checks to be able to enter any departments. There are very few people attending outpatients appointments and no relatives or visitors are allowed in, it's eerily quiet… That is until you go upstairs to Critical/Intensive Care Unit (CCU/ICU) and the wards.  
It's a whole other world. It's so busy, so loud and a real mix of emotions.  
No-one could have predicted how things were going to change and so quickly and nothing could prepare you for what awaits you behind the Unit/ward doors. 
 Every morning it was a leap of faith, a huge risk we would take, but united in shades of blue, every single member of the Hospital staff pulled together to get us and our patients through this nightmarish day as safely as possible. Day after day.  
Now as life beings to get back to normal or at least 'the new normal' as everyone keeps calling it, part of me wonders did the pandemic really happen or was this just some very vivid nightmare? Except I know it was real because I was one of the many thousands of NHS staff who were redeployed.  
Life during redeployment was interesting; no-one knew what to expect when all this started, it really was an unprecedented time. Things were changing hour by hour, there was no time to stop for air, and you really did have to hit the ground running.  
In many ways I was one of the lucky ones because I'm not a nurse, HCA or doctor, I am a Technician, so when working on the Units didn't have to have direct patient contact but that doesn't change the things I heard and saw and the lasting impact that would have on me, which is partly why I want to share my experience.  
Had I have known what I was going into and what to expect would I still have gone? If we were needed to do it again would I go? Yes and yes! As hard as it was at times, both physically and mentally, it was also one of the best experiences of my NHS career so far.  
For 7 weeks at the height of the pandemic I was redeployed from the relative safety of the Outpatients Department up to the heart of it all, CCU, at one of the biggest and busiest hospitals in the U.K.  
I was reassigned to the CCU Stores Team, prior to starting with the team I had no idea what they did or what to expect. Thankfully the team were lovely; I joined as a stranger and left with some really good friends.  
The CCU Stores team are normally consists of 6 people, who are responsible for procuring all the equipment, drugs, oxygen/gasses and medical supplies for each of the 4 specialist CCU's in our hospital, which normally holds up to 80 patients in total.  
Each of the permanent CCU Stores team had their own Unit or area to look after and the 3 of us who were redeployed to their team mainly worked with our mentors but could be allocated to whichever area needed an extra set of hands.  
At the height of the Covid-19 pandemic the CCU Stores workload quadrupled as there were extra beds fitted into all the existing patient bays and temporary Critical Care Units set up within the hospital, formed from the multiple Theatre Recovery areas and total patient capacity was increased to just under 200 specialist beds, this was as well as the new Nightingale Hospital, all of which became part of the CCU Stores team's responsibility to stock and maintain.  
It was also their responsibility to source the personal protective equipment (PPE) for ALL the staff working in CCU, this included specialist 'fit tested' masks and face shields which at the peak were very scarce resources.  
You really couldn't fault the CCU Stores Team in the slightest, they work so hard all the time and make such a huge difference to the Units on a normal day, but with this increase in workload and demand for limited resources, they really stepped up and without them having gone above and beyond to ensure there was enough supplies it could have been a very different story for everyone.  
We are really lucky that they had started to gather the appropriate protective clothing and key stock before the pandemic had hit crisis point, as this it meant that the staff working in the 'Hot Zones' have been well protected throughout.  
I should explain, the layout of the Hospital changed dramatically right from the outset of the pandemic and depending on the zone of the area you were working in is what level of PPE you needed and all the relevant rules that when alongside this. I'm not sure of what all the zones were but definitely a 'Hot Zone' included CCU/ITU wards or anywhere there were confirmed COVID-19 positive patients and the 'Warm Zone' included the Covid Recovery wards and CCU corridors where no potentially contaminated scrubs/PPE/clothing had been.  
My average day consisted of working in both a Hot Zone on the CCU Unit and the Warm Zone where CCU Stores offices are based, therefore lots of safety rules, new hand hygiene guidelines and PPE changes to remember, but after the first day of doing it, it becomes second nature because you realise just how important it is maintain appropriate protection and how precious life is.  
At the start of shift, we would change from 'outdoor' clothes straight into scrubs and clogs, and then when it is time to go onto the Unit, with the help of the incredible Donning/Doffing Team which was made up of all redeployed staff, we would don full PPE.  
This included: shoe covers, hair net/scrub hat, first pair of gloves, surgical gown, mask, goggles/visor and a second pair of gloves; also because after all that gear you could barely recognise your colleagues yet alone people you'd never worked with, we had name/job labels on our front and back.  
The picture here on the right is me and my mentor from CCU Stores, Emma Jones, as we were donning our PPE ahead of going on to the Unit.  
The PPE outfits we wore on the Units were hot, uncomfortable and a really poorly fit but they were essential and lifesaving. You didn't dare take it off even for a second to scratch your nose or adjust your glasses. It was just too high risk.  
In the media there have been so many stories and images of medics being left with red sore marks on the faces where the masks had been, and I wish I could tell you that that wasn't the case, but no, that was very much our reality and to a certain extent, still is.  
Oh and if you wanted the toilet during shift on the Unit, tough luck! In order to go, you have to completely leave the Unit, doff your PPE then go, so it was only really possible at break times.  
There is so much I could say about life on CCU, there are so many amazing memories and stories of pure miracles I could tell, and equally some of sheer pain and horror, but that is what the reality of life on a Covid CCU has been like, a continuous rollercoaster. 
One of the things that struck me was the mental strength it took to face each shift, because although we knew we were doing everything we could, wearing the appropriate things and following all the recommended hygiene guidance, there is still that constant fear. Is this enough? Am I a carrier? What if I catch it? Will I take this home? Am I putting my family at risk? At times there was no end in sight, the patient numbers were increasing, staff across all areas were dropping, but we had to carry on, there was no option, it was our job and duty.  
You couldn't think about it though, as your shift begins, you have to put all your worries and fears to the back of your mind, the only thing you can focus on is getting your job done as best and safely as you could, whether that's directly looking after the patient, providing all the stores and equipment, or cleaning and disinfecting the Unit.  
The day I joined CCU, it really was a baptism of fire, I hadn't been fitted for a ppe mask, so just self-tested the fitting and hoped for the best, then as I walked on to the unit, there were 2 things that really struck me, firstly the noise of all the machines and the amount of patients (134 that day but it went up to 154 in our section) and secondly the sense of calm, which I know sounds odd, but there was this overwhelming serene feeling.  
Hour by hour there are new admissions and despite the staffs incredibly hard work unfortunately more deaths; there's alarms and machines beeping from every direction; there's patients suddenly deteriorating and needing emergency procedures and huge teams of staff, in such a small space; the phones are ringing off the hook, pagers and different alarms going berserk; there's equipment shortages, so it's a case of make do with what you've got or beg, borrow or steal it from a neighboring Unit; yet through all the noise, chaos and utter madness, there is still this sense of calm and a painted smile – beneath your mask of course.  
Imagine, your friends/family packed off into an ambulance, alone, transferred between wards, alone, fighting for their life, knowing that if it gets any worse they will have to have oxygen and be ventilated, alone and afraid, the only faces they see are the tired eyes of staff in full PPE on the Units.  
All the staff worked hard to keep a calm and serene atmosphere, especially for the conscious patients, so they knew they weren't alone, they felt that they are loved, cared for and that there was hope, no matter how slim the chances were in reality. As for many patients the PPE covered faces of the staff on CCU, will have been the last they saw.  
The CCU Store rooms were right in the middle of the main CCU, so completely surrounded by Covid patients, and although you're not directly working with the patients, you get used to seeing them there, until the patient numbers really started to decrease and suddenly they're not there anymore, that's when the reality hit home the most for me.  
Nothing can prepare you for the first time I saw someone die, or you hear the sounds of the alarms as a ventilated patient rapidly deteriorates; even now weeks, I can still vividly see the faces of many of the patients on the Unit and there are several deceased patients I will always remember, including a young lady, same age as me who leaves behind a small child; a middle aged man who was supposed to walk his daughter down the aisle on the day he was admitted to CCU; an athletic 60 year old lady I had previously seen accompany her husband to my normal department; a local celebrity; a colleagues own family member.  
This virus has no prejudice; it has taken people of all ages, genders, ethnicities, ages, and social status. They weren't just numbers on the TV or bodies attached to the machines; these are real people, many of whom haven't been able to win this battle, despite how hard they and the medics looking after them have tried.  
We aren't robots running on autopilot, we too are human. There is nothing that could have prepared even the most experience trauma specialists for what faced us on a daily basis on the Units, but as time went on I got more and more used to how things were but unfortunately I was also becoming increasingly used to the noise and seeing deceased patients. At the time I didn't realise the lasting impact this would have.  
Life on the Unit is tough and not for the faint hearted at all, the uniform, the PPE, the cramped conditions, the sights, sounds and smells; yet day by day all the incredible staff who make up the umpteen teams on CCU carried on, and did their best to care for strangers, and trying to support each other to be able to carry on.  
As I've said before I wasn't nursing the patients so I was really lucky that I was protected from some of the worst bits; the stories I've been told by colleagues about the lack of specialist trained staff, the lack of specialist machines, having to look after multiple patients at a time (whereas it's normally 1 to 1 care on CCU) as there generally wasn't enough staff, having long periods in PPE without a break and all this is on top of all the uncertainty of how long all this would be going on for…  
I really don't think people outside of CCU understand how hard it was on the Units, particularly for the redeployed nurses and doctors, who didn't know where they would be working from one shift to the next so haven't got that continuity that the regular CCU staff or the redeployed non-medical CCU teams had.  
That said, it wasn't all doom and gloom on the units, the staff morale is great and regardless of what job you do or what band you are, everyone is equal. There was a real sense that everyone was in this together, we were multiple teams working for the same goal, to care for those who needed us the most at that time.  
You learnt to appreciate the small things, both for ourselves and the patients. As a Unit we'd all come together to celebrate the good moments as well as support each other in difficult parts of the shift.  
There were so many moments of absolute jubilation, like when a patient took was able to transfer into a chair after being bedbound for a so long, or doing their first lap of the unit with the help and support of the Occupational Therapists and Physiotherapists, or when they were able to start talking again with the help of the Speech And Language Therapists, but the best moment of all, for everyone on CCU was when a patient was well enough to be transferred up to one of the Covid Recovery wards.  
It was such a beautiful and emotional sight, every single member of staff on the Unit would stop whatever they were doing, turn towards the patient who was leaving and applaud. You could see on the patients faces how much this meant to them, they had made it through the worst of it and were on the road to recovery, they had hope again.  
It also meant so much to all the staff, as although nothing can ever ease the pain of loosing a patient but seeing a patient make such a recovery gave everyone a well needed boost and reminded us all that whatever role you were playing within the CCU family, collectively we were doing a worthwhile job and making a difference.  
There was a video article produced by The Guardian filmed towards the end of May, the day it this was filmed we only had 30 patients and were down to just one Unit, so it was quieter and more spacious than it has been at its peak.  
The link to the video is here: https://www.theguardian.com/world/video/2020/may/28/covid19-rehab-the-journey-from-waking-up-to-walking-again-video 
I've included this link because I remember seeing these patients on the Unit; the moment that Robert (one of the patients featured) did his first full lap of that corridor on the walker without stopping, all the staff cheered, the look of sheer happiness on his face, he was definitely on his way to getting that well-earned cuppa tea.  
It is moments like that which got us all through the shift and forms one of the many happier memories I will forever cherish about my time redeployed.  
As the Covid CCU patients numbers started to decrease and the need for 'normal' CCU beds was increasing, it was the Stores Teams responsibility to get all the 'contaminated' stock out of the Unit ready for the incredible Domestic team to do a deep clean and ensure anything that couldn't be moved off the unit had been de-contaminated, before Stores could then re-stocked it with 'clean' products/equipment, ready for it to reopen as a normal 'non-Covid' CCU.  
At the height of the pandemic a lot of these stock items were very scarce, so it was vital that we were able to recover as much stock as possible, because it would still be needed on our remaining Covid Units.  
On a couple of occasions we got just a couple of hours notice that the Unit was closing, and once the Unit was closed we wouldn't be allowed access to it and any remaining stock would be binned as it was classed as contaminated.  
So it was all hands to the deck, all the CCU Stores team scrambled to find boxes, cages anything that we could use to package up and transport the stock down to the next open Covid Unit, it was a stressful and very hectic few hours but everyone pulled together to get it done.  
It doesn't sound too hard, but when you are working in full PPE, on the wards which are already very hot, cramped and busy, whilst manoeuvring large, heavy items, it really was hard work and certainly gave you a full body workout.  
As time went on finally we got to a stage where there was just one Covid Unit remaining open, Area D. Gradually as numbers continued to decrease on this Unit, it meant that we were able to start sorting through all the stock and anything that we had surplus of and was unopened in original packaging could be sent to be neutralised in an isolation room, so that it could be brought off the Unit and go back into storage or be used on a 'clean' Unit, because all stock was still vital and although the availability of some items was improving, it was far from back to normal.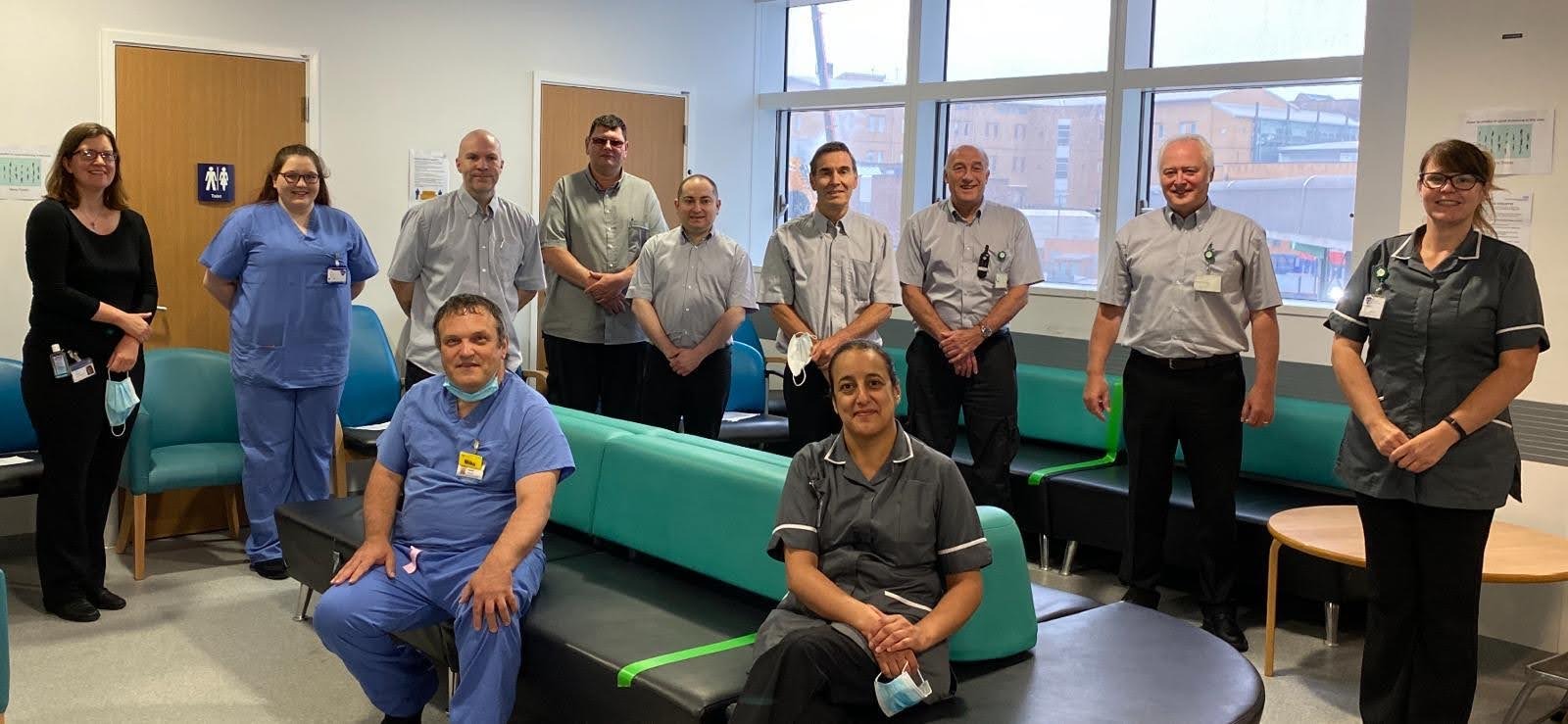 Whilst working on the Units you learnt to appreciate the little things, it seems really trivial in the grand scheme of things but the excitement we had in finding "a good box", which we knew could be useful for storage/transportation of stock, and it almost became a competition how many gloves would you get through in a session – they rip easily when your ripping open boxes and manhandling the stock.  
The moment you come off the Unit and you are able to take your gloves and mask off, the pure relief and sense of "yeah we got through that, we can breathe again now", and knowing that everyone feels the same as you sit in the break out room / office.  
The mutual support that was there, whether it's someone cracking a joke to make you smile or giving you a hug as you breakdown overwhelmed with emotions or just being able to relate and understand what it's like behind those closed doors of CCU.  
The team spirit and sense of togetherness is like nothing I've ever felt before, from the moment you set foot in to CCU, you become part of the family and it is a true team, everyone is in it together and everyone will go above and beyond to help each other and their patients.  
Any donations that we were brought it to CCU were shared equally across all the Units, and it could have been the simplest of things but it made a huge impact on us all and knowing that people cared about us, the staff, enough to send food/toiletries/hand creams etc it really boosted the team morale and helped to get us all through the difficult days.  
By the end of May the numbers of Covid positive patients needing ventilation was so low that even on the one remaining Covid Unit we were able to move all the patients into side rooms and begin to return the rest of the Unit back to a Warm Zone with the normal amount of beds.  
This brought mixed emotions, we were all so happy that patients were improving and as a nation we were starting to get on top of this awful virus, but equally it meant we were potentially coming towards the end of our redeployment and would be leaving the friendships we had made with fellow redeployed staff and the ward staff.  
Also with there being fewer patients on the Units, you felt as if you had a more time to do the daily tasks, and with this you noticed the decreasing number of patients more easily. It also meant more time to think and reflect on how things have changed in a relatively short period of time and of all the patients who sadly we had said goodbye to.  
This for me the hardest part of working on CCU, wasn't the chaos of the pandemic but the gradual return to normal, seeing the bays looking all spacious with just one bed in (like it's supposed to have) and the patient deaths were more noticeable, particularly as some of these patients you'd spoken to just hours before.  
Another aspect that I and many colleagues struggled with is that when we were on shift we were a team, to a certain extent we knew what challenges we were up against but we were protected as best as we could be, yet when we went home, suddenly we were the risk, to our families, fellow commuters, shoppers etc, and we were on our own, unless you lived with someone who was also working in the same line of work as you it was impossible to describe what we had experienced and no matter how tired, low, upset or scared we felt, we couldn't say that because we were 'the frontline', we were 'the brave NHS heroes'.  
When the time came to stand down from my redeployment, it was very bitter sweet, I was so glad to be getting back to my team and normal work duties, knowing that the worst of the pandemic was over, yet so sad to be leaving the amazing CCU Stores team and all the incredible people I'd met on the Units.  
Adjusting back to my normal job was very hard, when I left my normal department, it was still fairly busy with patients, yet returning there were very few staff and even less patients as clinics in the department had stopped or at least been reduced due to Social Distancing guidelines, also it felt almost alien to not be wearing scrubs and full Hot Zone PPE all the time.  
In the quiet moments in clinic, I'd often find myself reflecting and reminiscing on my time on CCU, wondering what happened to the patients who were still on the Unit when I left, how many admissions there had been, what stock levels were like of certain products, and all the banter and fun times we had as a team on the Units, yes life was hard but the people we worked with made it possible.  
Now as lockdown continues to ease, life carries on and with many things reverting back to normal like being able to go out and socialise with friends and family again, but I find there is this constant niggling feeling of dread… 'When is the second wave coming?' 'Will it be as bad as or worse than the first wave?' 'Can we as a health service do this again?' 'Would I redeploy again?'  
In reality I can't answer those questions, only time will tell, but I would redeploy again because working on CCU truly has been one of the best experiences of my career thus far, equally though it has been one of the most difficult and life changing things I have done in my life.  
No words can really explain what it was like being redeployed on CCU unless you were there, but I hope my brief account of rollercoaster of emotions I experienced helps give you an idea.  
Thank you for reading.