This interactive documentary combines 3D visualisation and multi-modal storytelling to tell the story of Senerchia terremotata, that is, the earthquake that devastated the Irpinia region (South Italy) in 1980.
Forty years after one of the most devastating earthquakes in Italian history, Italia Terremotata investigates its long-term impact on rural communities in Irpinia (South Italy).
This film integrates 3D visualisation and multimodal storytelling to recount the story of the resilient community of Senerchia, one of at least 40 towns almost completely destroyed by the 1980 earthquake which left 2483 people dead, 7700 injured, and 250,000 homeless. After the earthquake, most of the inhabitants of Senerchia lived in prefabricated houses for more than 20 years before they were able to occupy the new town, built next to the ruins of the abandoned old town. The community of Senerchia, and other affected towns, are still recovering from this life-changing event.
The case study of Senerchia exemplifies how displacement from 'environments of trust' often causes a risk of uprooting, loss of control over one's physical space, and alienation, making communities very vulnerable and threatening their resilience. It also demonstrates how heritage impacts community resilience, particularly when communities lose their 'sense of place', and all the elements that contribute to rebuilding that sense after a catastrophic event: e.g. relationships with natural and built environments, and how the latter are mediated by social and power relations, traditions, and symbolism.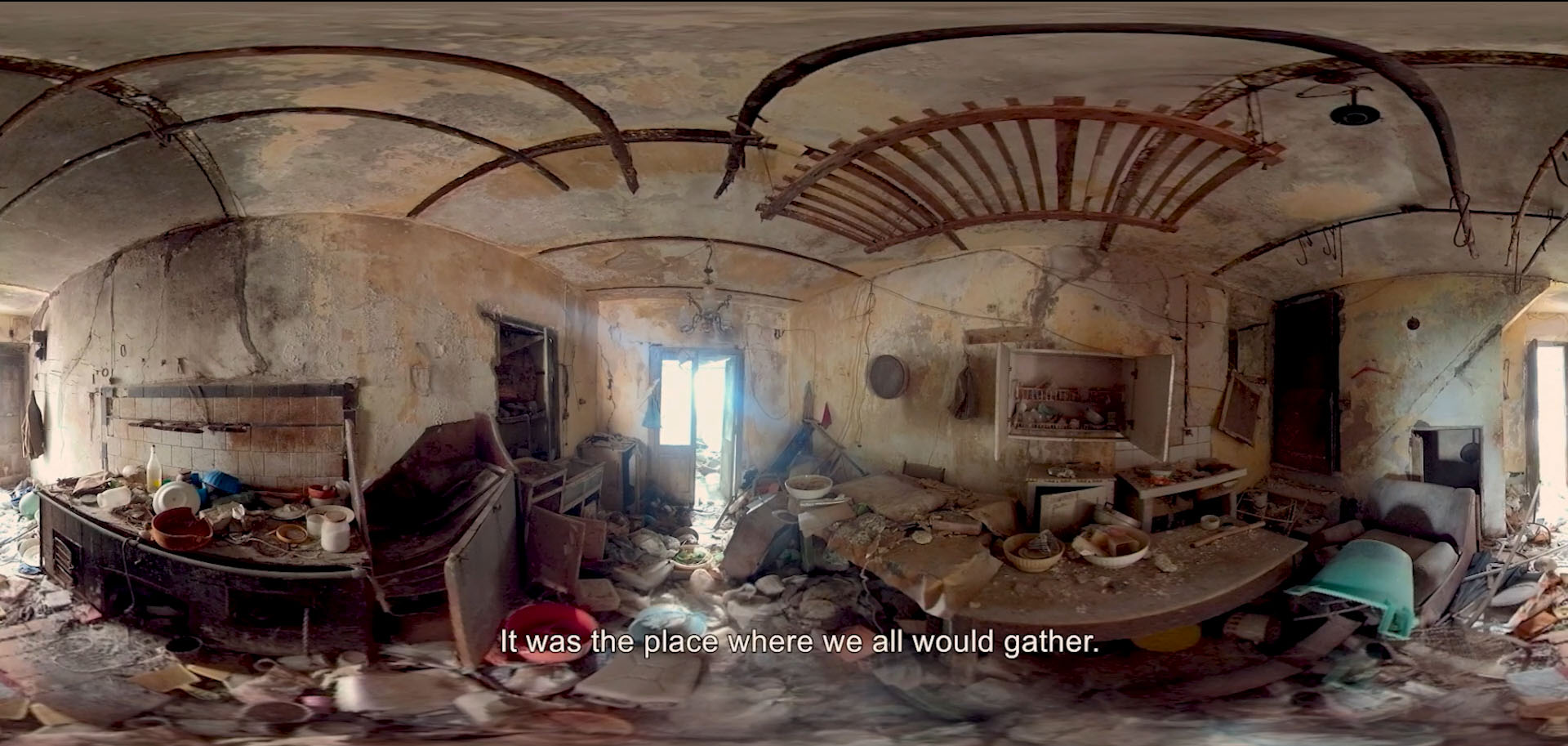 This experimental film uses a place-centred approach and aims to define the 'sense of place' by combining intangible and tangible aspects of heritage: it originates from video-interviews collected during an ethnographic study about post-earthquake community resilience in Italy and integrates them with a 3D-replica of the old town created using laser-scanner technology, as well as 360° panoramas of both the old and new Senerchia. This multimodal storytelling moves through a digital space that reveals the strong entanglement that exists between social rebuilding and material reconstruction in the context of catastrophic natural events.
Using the datasets produced for the film, the authors have also developed an immersive VR application allowing free navigation and selection of people's stories in the 3D-reproduced environment. This application offers an insight into the role of immersive technologies in the critical and emotional understanding of a research subject compared to film. This research will also explore how 3D immersive non-linear storytelling can serve not only communities whose cultural heritage is in question but also a larger global audience.
Co-Investigators
Dr Paola Di Giuseppantonio Di Franco (PI), School of Philosophy and Art History, University of Essex
Dr Fabrizio Galeazzi (Co-I), StoryLab Research Institute, Anglia Ruskin University
Contributors
Dr Rob Toulson, RT Sixty (Sound Design)
Dr Carlo Camporesi and Jad Aboulhosn, University of California, Merced (3D Design)
 Lance Pesquera, ARU (Editing Assistant)
Catherine Ashenden, Freelance (Colourist)
Dr Shreepali Patel, StoryLab, ARU (Story Consultant)